Revault is...
Bitcoin Native
Built on the Bitcoin protocol, secured by its network, Revault is a Bitcoin native solution.
A complete, secure solution
From key generation to network communications, from wallet to replicated watchtowers, Revault is a complete solution and can be used standalone.
Trust-minimized
Revault can be self-hosted, giving the organization the full sovereignty over their custody and spending policies. For institutions not yet ready for an in-house deployment, Revault is also compatible with third party custodians.
Open-source and auditable
Revault is fully transparent and publicly auditable. Being an open-source project, the Revault protocol and software does not depend on any single company to be maintained and improved on, making it a viable long-term solution.
How does Revault work?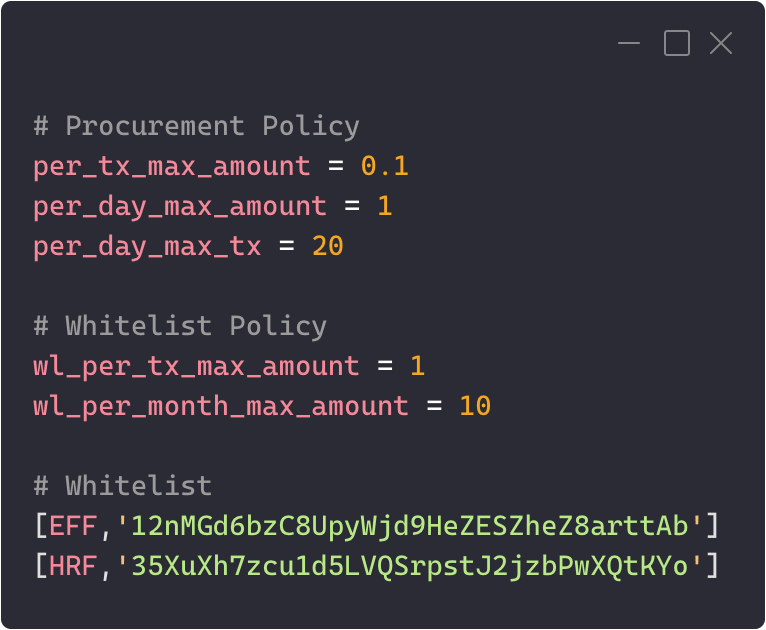 Revault offers a protocol formalizing the interaction between your cold wallet and your day-to-day operations securely and without trusted parties.
No other participant nor third party is required to enforce Revault's security model.
Revault allows to receive and store bitcoin on a larger-threshold multisig wallet without the drawbacks. It does not require the stakeholders to coordinate with each other for delegation, nor participate in day-to-day spending once delegated.
Revault restricts how delegated funds can be spent, keeping the high security without the bad user experience of a large multisig.
Revault uses pre-signed transactions to protect against theft, breaches of policy, user mistakes, physical threats and more. These security transactions can prevent any spending attempt or move all funds to a safe emergency wallet if required.
As they are pre-signed, they can be broadcast manually by any single participant or automatically by watchtowers.
Instead of directly sending funds to a less secure "hot" wallet for day-to-day transactions, the Revault delegation process pre-authorizes coins to be spent while restricting how they can move. These restriction policies can be spending limits, whitelisted addresses, extra verifications over pre-determined amounts, and much more.
Each stakeholder's policy is enforced by their own watchtowers, applying the restrictions automatically by broadcasting pre-signed transactions when necessary.
Want additional details?
If this summary isn't enought for you, here's some more usefull information
Revault Deployments
Inactive
Keep your bitcoins safe without any spending protocol overhead if you don't need it.
Active
Manage and coordinate how funds can move from your cold storage granularily and securely.
Full Featured
Enable complex policies on how funds can be used once moved from your cold storage.
Custom
Revault was built with modularity in mind from the ground up, get in touch to adapt the deployment to your business needs.
Have technical questions regarding the Revault architecture?
Interested in using Revault for your organization?
hello@revault.dev